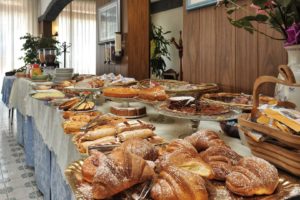 Are you looking for an astonishing holiday on the Amalfi Coast? This place is magical, everyone around the world knows this. You must visit it once in your life. Have you already planned the trip? Are you still looking for the best solution to stay on the Amalfi Coast? Just keep on reading you are on the right website!
The best way to get a nice holiday and looking for a cheap solution so…why not think about the best bed and breakfast? The Amalfi Coast has hundreds but, how many of them are both inexpensive and comfortable?
We are going to show you the Hotel Europa, in Minori. This is an excellent B&B which serves a well known and delicious breakfast!
Bed and breakfast on the Amalfi Coast
The hotel and bed and breakfast Europa is based in Minori, a town on the Amalfi Coast next to Amalfi. Actually, there is much to discover in this town, like the Roman Villa which dates back to the 1st century B.C .
Talking about the hotel, it offers both a cozy and comfortable hospitality to all guests.
The owners have a long experience in the hotel trade. Bed and breakfast Europa is in the center of Minori, just 50 meters from the beach and a few steps away from the Villa we were talking about above. Parking is available and there is a large dining room for breakfast.
Our reception works 24 hours a day moreover the hotel offers more approved services. Want to know which ones? Keep on reading the next paragraphs!
Our rooms
Our rooms are all cozy and well furnished in a simple style. In every room there are windows and balconies, there you can appreciate the wonderful view on the ancient Roman Villa and Museum, the Minori valley and Ravello.
We have 18 rooms, divided into:
6 standard double with view
1 economy triple
4 quadruple with view
7 economy
Prices vary depending on the room you book but…choose one without view and you will save money! In every room there is air conditioning, heating, TV LCD, phone, hairdryer, free WIFI in all areas.
Our services
Many affiliated services are available for Europa guests. Want to go to the beach? Tell us and we will book it for you, we can reserve you a sun lounger at a bathing lido. Want to go to a restaurant for dinner or lunch? Make a reservation at our reception.
The same thing works for excursion bookings with agencies and transfer reservations to/ from Capodichino airport. Just tell us and we will do it!
Our rates and offers
Want to be updated with offers? Well, have a look to this link, there could appear the right opportunity for you to spend an amazing holiday here on the Amalfi Coast! Just think about it: wake up to a wonderful breakfast to start the day off well!
These are the rates for our rooms, they could change depending on high season, mid-season or low season. It could also depend on the national festivities, so…let's read them all:
Single room: 40€ – 50€
Double room: 50 € – 80€
Extra bed supplement: 10€
Children 0 – 2 years old cots are free
Children 3 – 10 years old extra bed supplement: 10€
Car parking: 10€
PLEASE NOTE: There is a city tax (tassa di soggiorno) of 2 euro per day per person, this is for the first 5 days of stay. This applies all year round except from the 10th of January to the 31st of March, and from the 6th of November to the 21st of December.
How to get to Bed and breakfast Europa
We are in Minori, one of the first towns of the Coast coming from the South, it is between Maiori and Amalfi, there are wonderful sandy beaches, which can be public or private. Where are you coming from? Naples, Rome, Salerno?
Well…the best solution if you are coming from Rome or Salerno is to take the SITA bus from outside the Salerno railway station or a private transfer to Minori. If you do not like the narrow and curvy roads (we can understand you) take the ferry from the port at the Concordia Square, a few minutes walk from the Salerno station.
If you are coming from Naples you can do the same thing, take the Sita bus or ferry and we will be waiting for you here in Europa bed and breakfast!
Did you like our description? Book now to make sure there's a room for you!
Contact us for whatever you need
What to visit in Minori
If you want to start sightseeing and visiting nearby on the Amalfi Coast, start here in Minori, it has 2700 inhabitants, its name has an ancient origin, once it was "Rheginna Minor", next to the Rheginna Maior. As the ancient Roman Villa can testify, tourism on the Amalfi Coast was alive during the Roman times.
In this town there are many churches, it is something like one church for every 270 citizens. If you like history or architecture go and visit them all, the most well known are:
Basilica of St. Trofimena
John by the Sea Church
Gennaro and St. Julian in Villamena
Michael Archangel Church
More attractions to visit are Torre Paradiso (Paradise Tower), Fontana dei Leoni (Lions Fountain), Mezzacapo Castle, and obviously the Roman Villa.
What do you think about the plans we have made for you? Do you like the idea? So, book soon, we are waiting for you! Thank you for visiting us and have a fun and relaxing holiday on the Amalfi Coast!