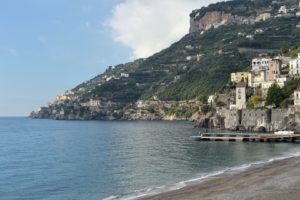 Did you know that Amalfi Coast beaches are not all sandy, mainly because of the formation of this coast, it is very rare finding a long piece of sandy beach, the majority are rocky or pebberly. This is just one of the peculiarities of the Divine Coast.
If you are looking for sandy beaches we can give you some advice. If you want to have the Amalfi experience you can start your day going to the beach to get a tan and relax. Then for a walk through the historical centre to taste the typical Amalfi cuisine. But now let's learn more about the salty part of the coast…
Best Amalfi Coast beaches
In Minori there is a wonderful sandy beach, if you stay in Europa Hotel you can book your place in the bathing lidos at our reception. The lidos are all in walking distance.
If you are thinking about an excursion and going to the other beaches on the Amalfi Coast towns just keep on reading in the lines below. Minori and Maiori have the widest beaches on the coast. Maiori is a town which borders to Minori, so it is easy to get there too.
Maiori and Minori beach
Next to Maiori is Erchie, with a beach of 200metres, next to the Saracen Towers. In this town most of the beach is private but it is possible also find a public beach area. Here there is a beautiful beach called "Spiaggia del Cavallo Morto" (Dead horse beach).
Minori beach is exposed to east, where the sun shines all day.
Vietri sul Mare beach
Vietri is a town on the Amalfi Coast, very well known for the pottery it produces. In fact, ceramic designs are shown all over the city. For this reason this is a colourful city. There is a great deal to visit in Vietri, so we suggest you spend a half day there enjoying the beach and the sun too.
These are the names of the main beaches of Vietri sul Mare: La Baia is the first one coming from Salerno, from La Crespella beach you can enjoy a wonderful panorama, and the "Vietri Faraglioni". The peculiarity of Marina di Vietri is the river which divides it. Lastly we suggest a visit to the Marina di Albori, a small beach reachable only on foot through a pathway.
Cetara beach
Cetara is well known for its tuna. Also the name comes from the word "Cetus", which means "tuna". It is a fishing village, so you can understand the high quality of the fish dishes. Here the speciality is called "colatura di alici", you must taste it!
If you want to spend a day in Cetara between food and beach, welcome! These are the beaches of Cetara: Marina di Cetara, sunny and clean, Cetara Port beach, an artificial beach adorned by the sea. The last but not least is the Lannio beach.
Amalfi beach
People do not go to Amalfi just for a great tan, it has much to offer to tourists, above all it is an historical town. If you want to spend some time in Amalfi, go and visit it! If you are not sure what to visit in Amalfi, start from the Cathedral, go to the Paper Museum, eat your lunch in the historical center and then go for a wonderful swim in the clear waters.
Praiano beach
The most suggestive beach next to Praiano is the Furore Fiord, it is very Instagram worthy! Praiano is a special town, it is as beautiful as Positano, but less expensive. Go to the Marina di Praia, one of the most romantic beaches on the Amalfi Coast.
At last, we would like to suggest the Gavitella beach, a wonderful beach where the sun lasts until sunset. This is an advantage as many other beaches are covered by the shadow of mountains after a certain hour.
Positano beach
Positano is also a very well known town, if walking there it will change your day, imagine spending a day at the beach too! It is a magical town full of natural beauty and fashion craved all over the world. Also Positano has some beautiful beaches, one of these is Laurito. Do you know Laurito? It is a wild and small piece of beach which can only be reached by steps.
Positano is called "the vertical city", so you can imagine that everything rises up on the hillside.  There is the Arienzo beach and we can also suggest the Marina Grande and the romantic Fornillo.
Marina del Cantone in Nerano
If you want to explore something away from the Amalfi Coast, Nerano is a part of the Sorrento Peninsula, but obviously it too is as beautiful. Spend a day in Sorrento and come for a dive in Nerano, here the waters are always clean and there is excellent food!
Bathing in the Amalfi Coast sea
You can see it during a trekking excursion from the hills, the sea here on the Amalfi Coast is an emerald colour and there is a good fauna, where the fish which ends on our plates at dinner comes from, therefore healthy and non- toxic, but we are also going to show you the clean crystal clear waters of the Amalfi Coast.
Arpac (Regional agency for environmental protection) recorded crystal clean waters in these towns:
Conca dei Marini,
Furore,
Maiori,
Praiano
You can also find clear waters in Positano, which borders with Praiano.
Beach Kit for travellers
We hope our suggestions are useful to you, dont you forget to book your room in Europa Hotel!
Do you want to spend a few hours on the beach, but at the same time visit the town? Well, it is possible with a small bag. With our suggestions you could travel all over the coast with a light bag.
The most important thing (we know, this could be rhetorical, but it works!) just take the essential, which means a towel (today shops sell very thin towels), a second bathing suit, sunscreen, sunglasses and something to drink. Don't forget the wallet!
Tips for a perfect tan
Is it your first day of beach? Is your skin very fair? Don't you have many days to get a tan? Well…there are many options we are going to show you!
THE IDEAL OPTION would be going to the beach the first day at 8.00 am and use sunscreen every hour. Leave the beach at about 12.00 am or 1.00 pm to be sure the sun does not burn you. Depending on your skin type use a 30spf 50.
THE SHORT TIME OPTION. If you already know that this year holidays will only be a few days, get ahead of it and spend some time under a sun lamp before your departure. Anyway don't forget to use sunscreen under the sun.
THE FEW DAYS OPTION. This option works, but be careful. If you spent the whole holiday visiting and discovering the coast, you probably only got tanned on your arms and legs. Well…this isn't so sexy! We suggest you go to the beach during the hottest time and use sun screen every hour. Be careful with this desperate option!
Do you like our plan? Thank you so much for visiting us. We wish you a wonderful holiday on the Amalfi Coast.